By submitting this form, you agree that we may use the data you provide to contact you with information related to your request/submission and the relevant Examiz product. If you are a guest, you can unsubscribe from Examiz information emails at any time by clicking the unsubscribe link in the email. To learn more, see Examiz's Privacy Policy.
Once your request is submitted, an Examiz expert will reach out to you to provide you with the details of your live demo.
Learn more about Examiz Match:
During your free demo we will walk you through the core functions of Examiz Match:

Hire Smarter: Find the right person based on important personality attributes. Learn how to make sure that you hire the best-fitting candidate. Our Best Match Score helps you find the best talent while increasing compliance and mitigating risks.
More Talent:  Identify high-performers and high-potential among your candidates; and avoid "bad apples". We will also show you how you can improve diversity and offer more equal opportunities.
Potential: Understand the powerful analytics behind our reports; compare the detailed personality profiles of all candidates; and learn how you can develop your talent further once hired.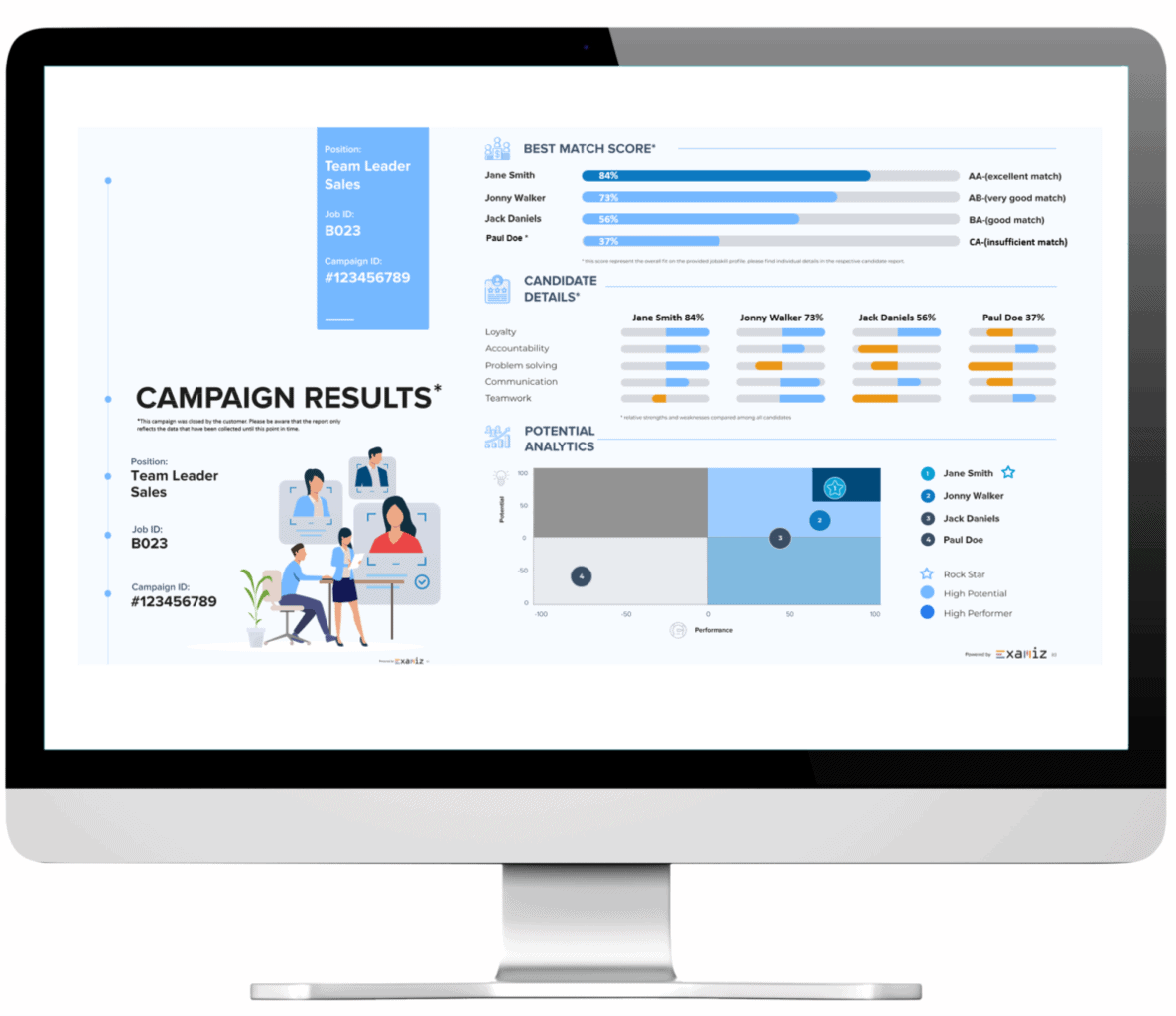 Examiz lets you and your team focus on what really matters.
Examiz Match is designed and built for recruiters, talent developers, and HR professionals to find and select the right talents, improve compliance, and foster data-driven decision-making.  We enable HR managers and their teams to better manage their talent pipeline and save up to 90% of their time and effort spent evaluating candidates.
Hire Smarter: Find the best-fitting
talents faster.
More Talent:  Recruit more high-performers while avoiding bad hires.
Develop Potential: Understand and unlock the true potential of your employees
If you can't wait, just click below to see how it works.